---
2020 has been a year filled with challenges for all of us! The pandemic has changed our outlook and perspectives on many spheres of our lives.
When all was shut down last spring, we rallied together as a family to see how we would navigate these uncharted waters. Having been working on and renovation our house for the pas 20 years, we had never brought any love to our back yard. At the very front corner of our lot stands an old barn. So, we decided that to keep this family busy, we would renovate the barn!
---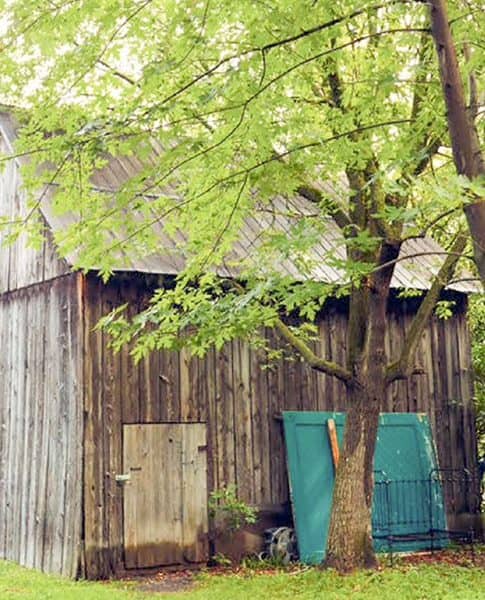 photo@ David Stefano
---
A family project, we envisioned an extra outdoor room that would be both for relaxing and entertaining. We quickly realized that the notion of entertaining is very different for my husband and I and my two boys.
A lot of blood, sweat and tears went into this project. A real labor of love, our family came out of it stronger and closer. Such an amazingly positive experience amongst all the negativity around us.
This turned out to be a much bigger « pandemic » project than expected 😊. The boys (excluding myself) emptied out this space, stripped it down to the bones and rebuilt this amazing space.  I developed the concept and made lists!!! 😊 Here are some of the before pictures and  for more after picture go to La Grange.
---
---
Fun facts:
no 1 : We found original paper clippings in between some beams , they are dated November 1905 !
---
---
no 2 : We fond and old army bed cot , which Nikolas , Jerome & myself recycled into a table.
---
---
no 3 : A friend of ours graciously gave us some old pallets to create our adjoining terrace.
---
---
no 4 : Jeanne our almost Niece , created the amazing sign to name our project!
For the parents – the fun entertaining space LA GRANGE  & for the boys & Jeanne – The party space 😊
---
---
No 5 : Jerome & I turned the barn door into a beautiful Instagram worthy bench!
---
---
no. 6 : Several recycled and vintage items were recuperated from one of my commercial projects ricardo media . Items used to amplify the « wow » factor of this barn.
---
---
no.7 : No wood was purchased to renovate the barn, the boys took out everything plank by plank, cleaned and reinstalled everything ! It did not hurt that Christian is a real handy man and was a general contractor in a prior life 😊
---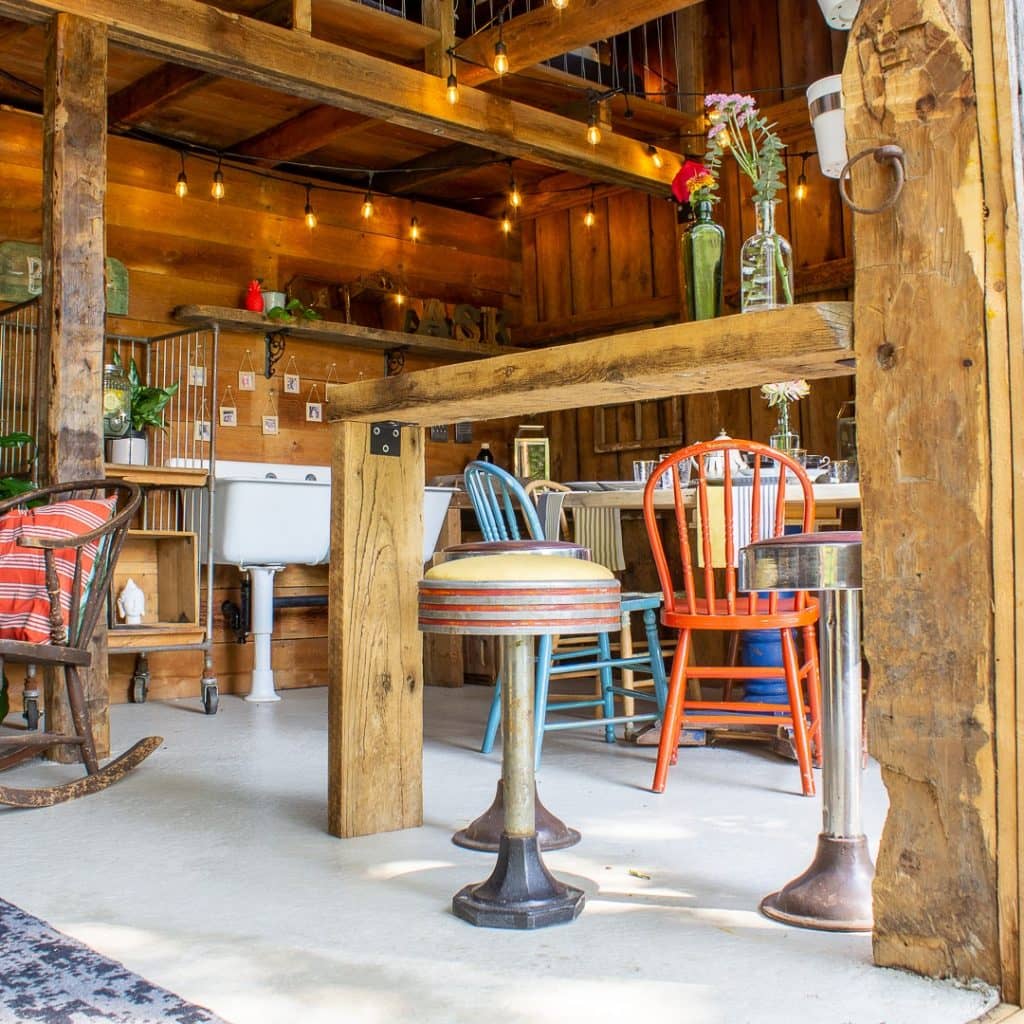 ---
no 8. I finally have a place for this gift from my grandfather, directly from Saskatchewan! For my future grand kids 😊
---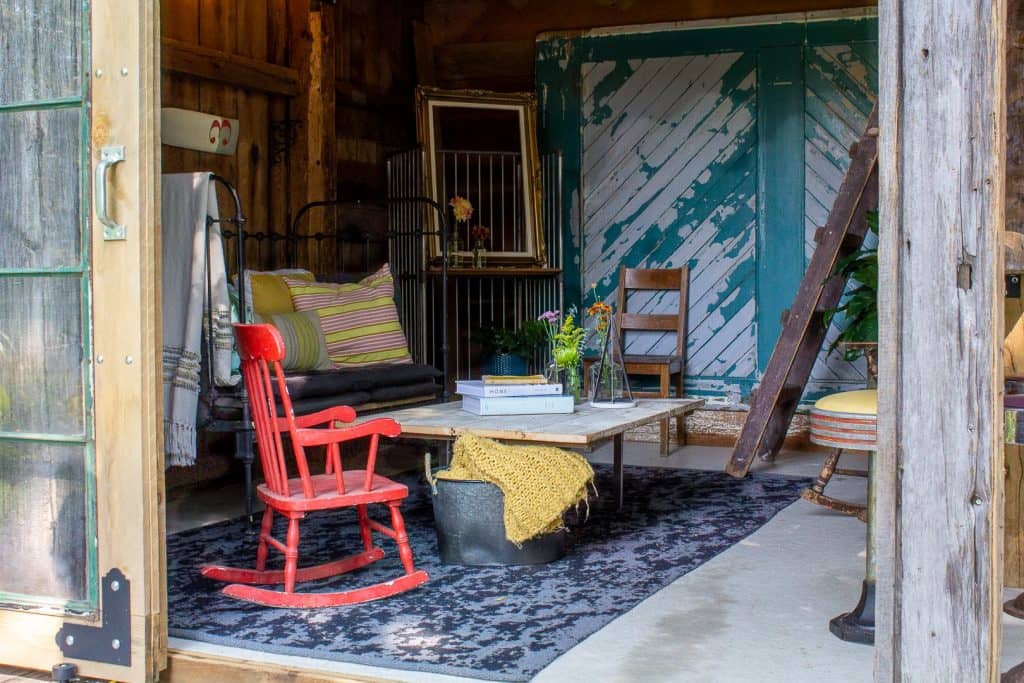 ---
The finished product even surprised us! We inaugurated « la Grange »  to celebrate a big milestone, Niko's 18th birthday!!
---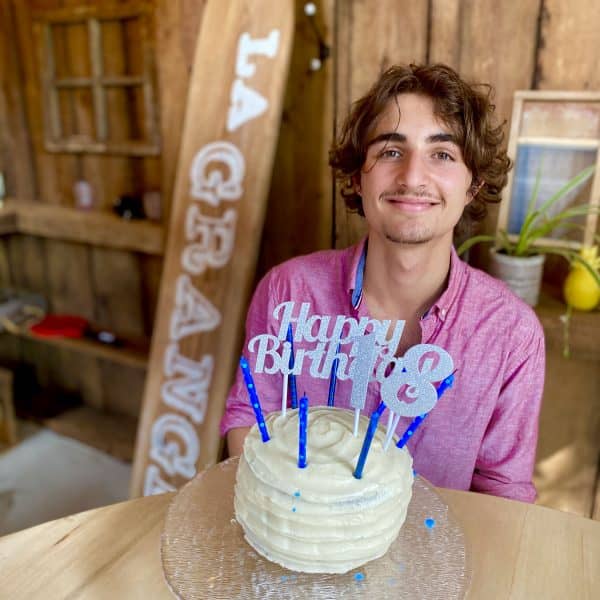 ---
We love the space and look forward to using it to its full potential once the pandemic will permit. Welcome to  la Grange
---
Caroline K